After living in southern California for almost 30 years, Carolyn Brann moved to Berlin in August 2020. Mostly self-taught, Brann started abstract painting ten years ago after a full career in entertainment finance. Simultaneously, she began a daily spiritual practice of meditation that informs her work in the form of bold, gestural textures and colors, repetitive patterns, and a copious use of metal leaf - particularly gold. The natural world, diverse building architectural shapes, love of music, observance of human emotions, and visions from her meditations influence Brann's abstract practice. Her goal is to create work that connects with the viewer on an emotional level, thereby provoking discussion and multiple interpretations.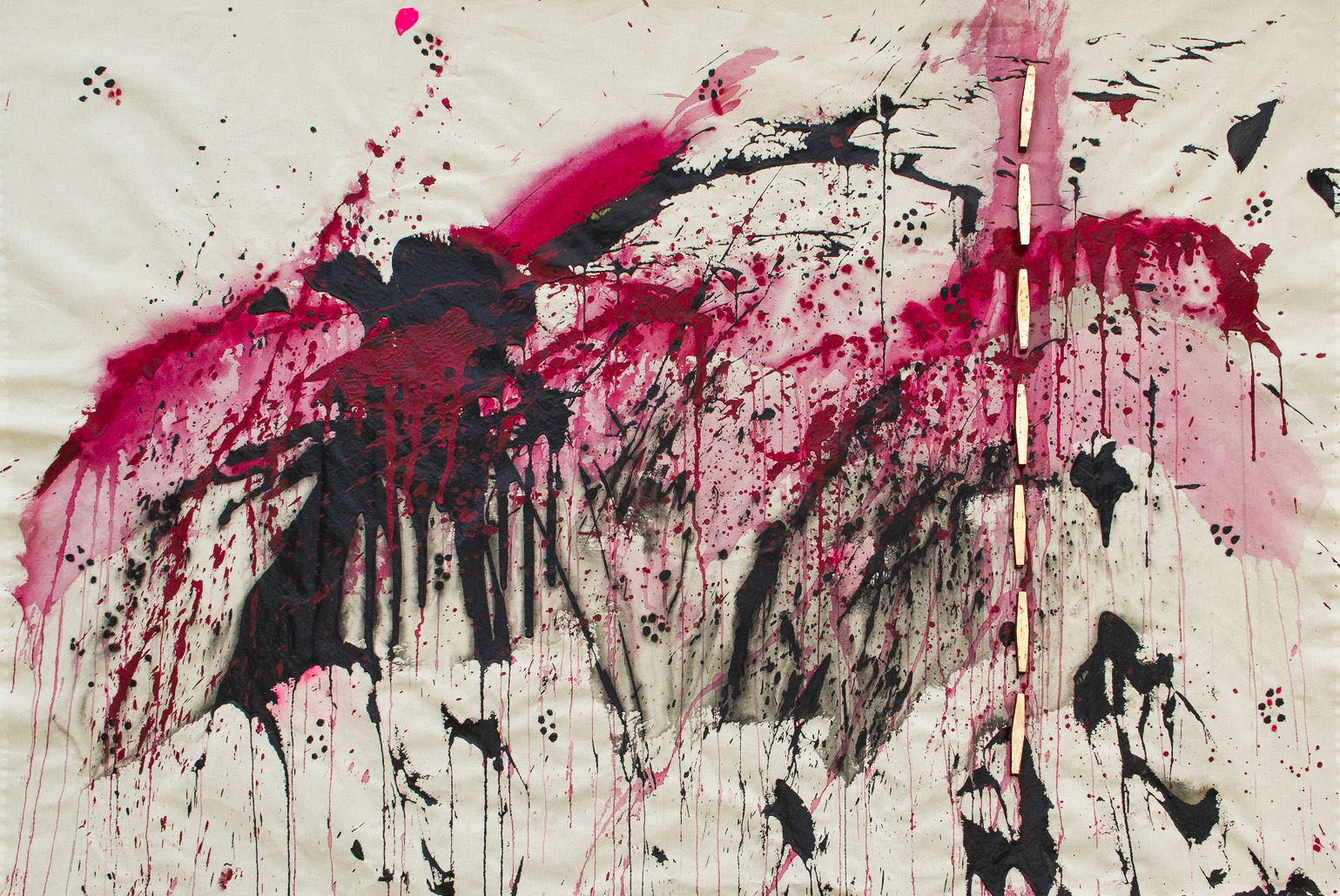 Carolyns work 
Moving from California to Berlin must be exciting but also challenging! Could you tell us why you decided to come here and how you have been experiencing this?
Sure, so in summer 2019 I did a trip from California to visit Austria, Prague and Germany. The last part of the trip was an artist residency and retreat in this little town on the Havel River called Strodehne - about 90 minutes outside of Berlin. Part of that retreat included a week's stay in Berlin and an opportunity to enjoy the culture and lifestyle of the city. I have to admit, my first impression was not great. It was an overcast, cold July day. I could really feel the history and energy of the War and the Wall, and that, coupled with the boxy Bauhaus architecture, left me feeling a bit depressed.
But then cut to evening time after nap and dinner when we found ourselves at Klunkerkranich in Neukölln. I loved the quirkiness of this place located on top of a parking garage. My whole attitude shifted there. It was super crowded and there was something for everyone - a great view around the entire city, outdoor sculptures and other art, lots of seating, a room that was going off with a DJ and dancing, a sand pit for kids, and another space that had a coffee shop vibe. After that it was all over for me. The next night we checked out Clärchens Ballhaus in Mitte which was crowded in a pre-pandemic, fun way. I remember it was a Monday and I was like, ok, this city is great, something to do and somewhere to go all the time. By the time we returned from that trip, we were committed to making the move which was supposed to be for one year.
After that there were logistics of applying and getting accepted to a bilingual high school for my child. Once the pandemic hit, I gave up on the whole idea with the travel bans and everything else. Then I watched this Netflix show called "Unorthodox". It takes place partly in Berlin and shows different neighborhoods all around the city. Once I saw it, I was like - holy crap, I have to get back there! And then started trying to figure it out. There was an education loophole in the travel ban that was designed for college students, but I went with that. Then I began working out all the other details - an apartment, health insurance, plane tickets, storage for our items, etc. etc. It took us three attempts to get out of California, lots of documents, an unplanned long weekend in a Los Angeles airport hotel, a load of emails back and forth to the Bundespolizei, but we finally made it out. I knew within the first few months of being here that one year wouldn't be enough time.
We've been here close to 2 years now and I marvel at the amount of things there are to do and also still feel like I've barely scratched the surface. The whole first year+, we were in lockdown. I was really fortunate to have found a long-term studio rental, so I spent all day, every day creating. Every day was an adventure just finding parks, grocery stores, bakeries, and hardware stores. Seeing new environments has really been a treat for my eyes and is always inspiring. Case in point, my whole train series. I spent months going back and forth on the U2 from Schöneberg to Prenzlauer Berg. I got to know the stations and their color combinations and those colors started showing up in my work. Also, growing up on the east coast of the US, I hadn't experienced a real change of season in years as I had been living in southern California. The first winter here was a bit of a novelty, this past winter has been less so, but again, inspirational as you can see from my Winter Trees series.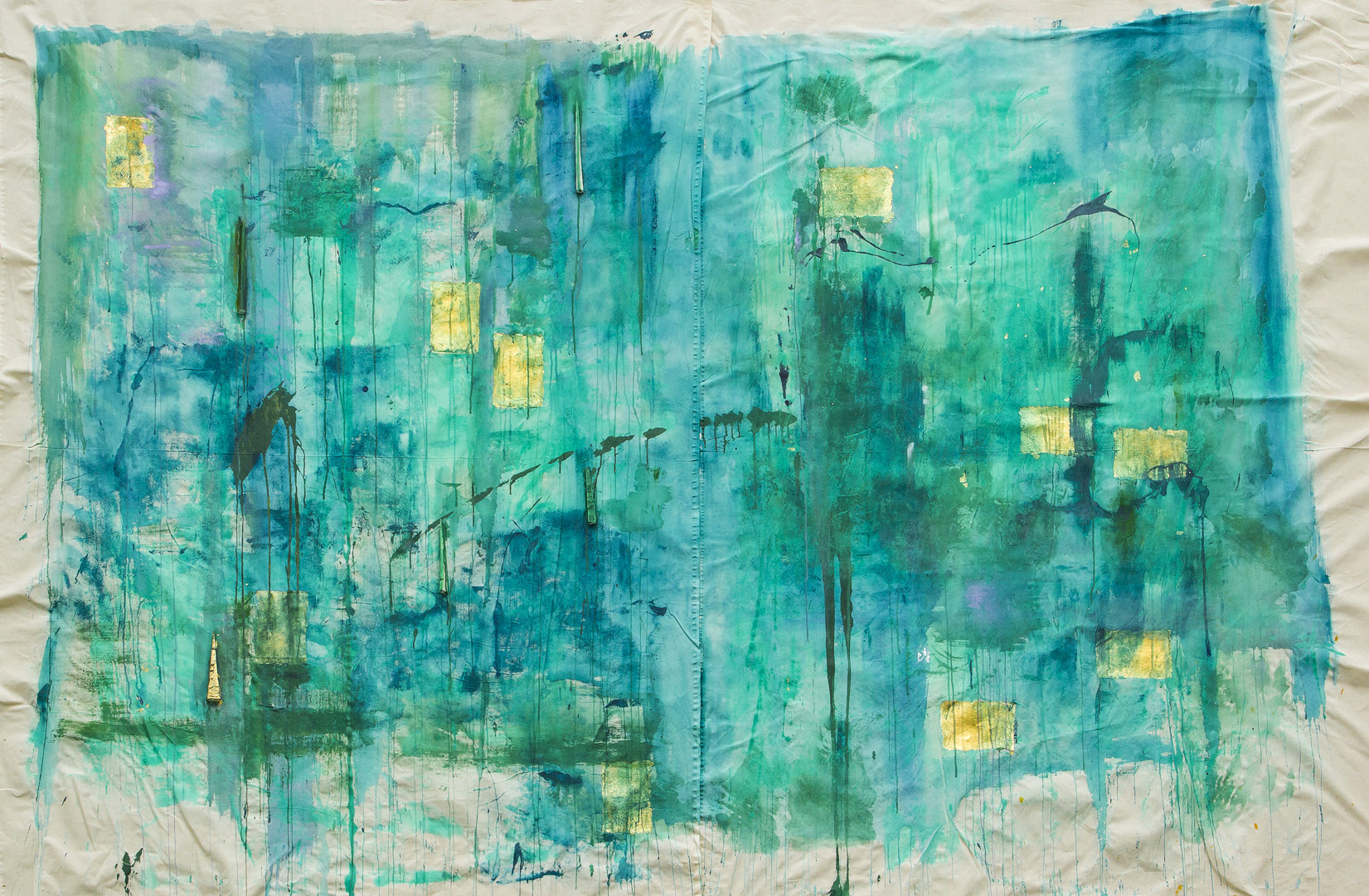 Can you tell us a little bit about your process of creation; how do you start a piece and when do you reach that satisfied " I have finished" moment ?
Ha - does this "satisfied moment" exist?! Seriously, my process of creation is influenced by many things - things I see walking around and things I see in my mind. I meditate and practice kundalini and other yoga and often get visions from these practices. Sometimes, I translate these visions almost exactly to the canvas. Sometimes, they start as the vision and end up somewhere else - directed by these moments of chance that abstract painting lends itself to. I usually sketch these visions out first and then the process is a quick replication of whatever was in my mind.
In other cases, I'll see a color or a geometrical shape of a building or surface and that will be the start of something - either a singular piece or a series. I get a rough idea in my head, I might sketch it out, but typically I just apply the first color and then that dictates my next move. I don't like to combine too many colors at once, so I generally begin with an idea of a few colors to use and go from there. I struggle with knowing when exactly things are done. Part of my coGalleries residency included meeting with curator Yasmine Benhadj-Djilali and we discussed this very thing - knowing when a piece is finished.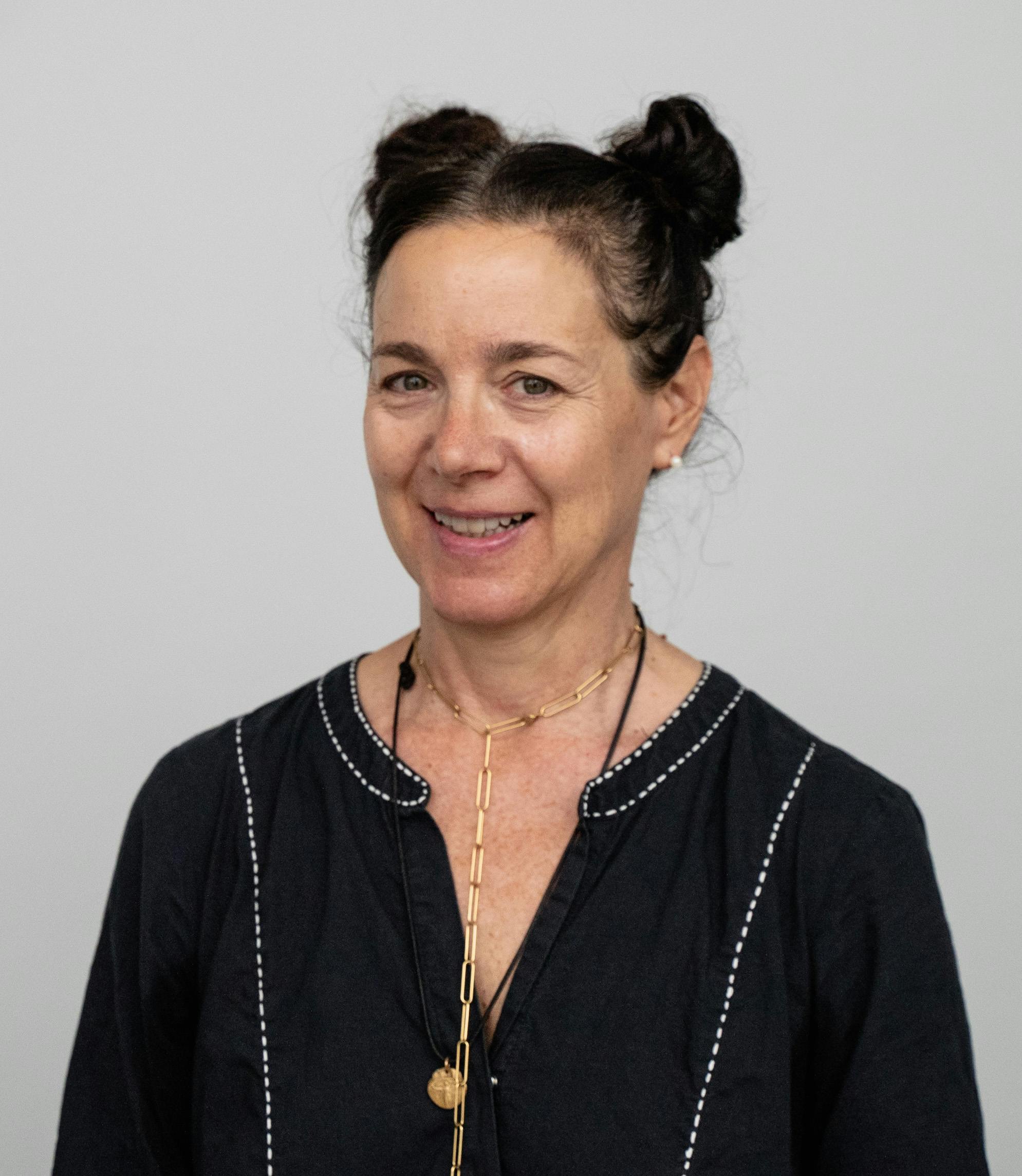 I'm mostly self-taught and have worked with a Masters level art professor in San Diego and I remember frequently butting heads with him over when a piece was completed. I leaned more to the simplistic side and not overcrowding/over-coloring, but he often encouraged a final flourish or three. Many, many times he was right, though sometimes he wasn't. In my conversations with Yasmine, we concluded a few things - I often "just finish a piece" with a quick last element (a stroke, gold leaf addition, or some meditative dots) to get it done and move on to something new and that final element ends up overdoing the work. I think adding that extra thing is my teacher - whom I love - echoing in my head. Part of this residency and working with Yasmine taught me the confidence to just stop when I'm not sure what to do next. If I am at a loss for a next step, now I stop and come back after time has passed or finish the piece altogether.
In general, are there specific subjects or themes you return to regularly in your work?
Sometimes. Usually it's emotions like grief, sadness, anger, or joy and those show up in repetitive patterns, random gestures, or color choices . More frequently, what recurs are the things that influence or affect me in some way - the natural world, structural or geometric shapes, human behavior, or my own emotional responses to whatever is happening in my life.
You have been using acrylics on non-stretched canvases but also experimented with new materials like metal, plastics, wooden cnc cuts, and styropors. Is there a specific environment or material that's integral to your work?
I work best when I can get messy without being precious about the space I'm in - it's freeing. In terms of materials - gold and other metal leaf make a regular appearance in my work. Colorwise - I have had a long love affair with fluorescent pinks and oranges and I don't see that affair ending anytime soon.
How have the new materials influenced your work?
Both the wooden CNC cuts and styrofoam ignited my interest in adding a sculptural element to my work and trying other 3-D work. I added both the CNC and styrofoam elements to a few pieces I made in the residency. And now I'm continuing to make a curtain-type thing from the CNC wood cuts. It's been a time consuming project, but I am stringing together 23 individual CNC wood pieces to make a strand about 2m long. I have 11 strands so far, but need to drill, string, and paint at least 11 more. I'm making a curtain to separate my kitchen from my dining room. It's a noisy 70s-style curtain if you can visualize those old ones made out of beads. This is an updated version since the CNC cuts are diamond shaped and more modern.
Are there influences of other artists in your artworks?
Oh yeah. I love the soak staining technique pioneered by Helen Frankenthaler. I tend to switch back and forth from painting on the floor, which Frankenthaler did, or painting on the wall. I also like to use large, heavily textured, gestural strokes similar to many of the mid-60s abstract expressionists. I also love the repetition of patterns, particularly dots and circles. I think that comes from my love of all things Yayoi Kusama.
Some artists have clear ideas on what and how viewers should be experiencing their work. What is your take on that?
The key word here is experience. I feel like an experience is more conducive to a connection with whatever you might be showing. That means lighting, maybe sparse furniture, maybe food, and definitely music. Having worked in the music business, I feel like everything is more deeply felt when there is an accompanying soundtrack. I think lighting is important as well. Remember former resident Peter Wendel's show? The way he hung the photos from that clothing line in the darkened second room added to the overall experience of looking at his images there - at least for me it did. I like looking at art in any setting, but I also enjoy when there is a feeling of community and a comfortable setting to hang out in.
Of course, maybe the sterileness of a clean, white box is the best way to view and sell art? For me, I want to create an experience that differentiates my work from others' out there.
Your next solo exhibition here in Berlin has the title "Love Letter to Berlin", could you tell us a bit about the general concept behind and when you came up with this idea?
Six months into the pandemic, my offspring and I moved to Berlin. Everything was new to us and that made even the most mundane tasks amusing. In California, I used to spend up to 4 hours a day driving. Seriously. There are loads of cars and you can count on traffic - it's exhausting. Being able to ride public transport and get anywhere I wanted without dealing with traffic was a dream. That pleasure translated to my U-Bahn series. I keep discovering new stations and color combinations even now, and will continue this series from here, but even in other cities around the world. The stations to me represent choices, possibilities, opportunities, and experiences ahead - all in an organized randomness type of way. A lot like the work itself.
I also became fascinated with the city's landscape. There are churches everywhere alongside giant cranes building new structures. That inspired the large green and blue piece "Steeples 'n Cranes" plus a few smaller ones in a series I started at the residency. I love the juxtaposition of the old city landmarks with the new construction. It's like the push and pull of life - trying to hold onto tradition and evolve at the same time.
Lastly, watching the seasons change here has been really special. The winter is dark and dreary, but there are these really cool Lombardy Poplar trees that are majestically tall and thin. When they lose all their leaves, they look like the coolest, regal sculptures. Those trees inspired my Winter Tree series.
All the work I have been creating is connected to my positive experience in living here, so "Love Letter to Berlin" was a natural outcome.
What about titles? How do you deal with titles in your works?
I love making up titles. I keep a running list of titles in one of my journals. Sometimes it's just random things I make up, sometimes they're snippets of conversations I overhear, sometimes my titles are obvious connections to the work, sometimes not. With the U-Bahn series, I named the work after the station that inspired the piece. Some of the others are based on what they are, e.g., Winter Trees or Steeples 'n Cranes - which is what I see when I look out of the window as I move around through Berlin.
What's your best way to maintain a live/work balance? Do you struggle with it?
Ha! I have not quite cracked that code yet, have you? I just try to keep a focus and do one thing at a time. Otherwise, when I'm scattered I do a little bit of everything and then nothing really gets completed quickly. My meditation practice definitely helps me stay focused. It's a delicate balance. I am better at certain times than others.
Next steps - what´s coming up!
A few things…I'm working on a new architecurally-based series. It's a continuation of my "Love Letter to Berlin". I love the way that refurbished buildings have kept bits of the old weathering of their original walls. So I'm abstracting some public and private art collection spaces I've seen. I have been gold leafing everything in sight - from discarded electrical fixtures to pieces of wood to banana leaves and passionfruit skins. I'm in the middle of a "Fear:Faith" series which is mostly black and darker colors with varying amounts of gold leaf. And lastly, sourcing a warm winter destination for an art residency. And completing a website redesign. I have made somewhere close to 200 pieces of art since I arrived in Berlin and exactly zero of these works have made it to my website. Mostly, they are viewable on my Instagram page @carolynbrannstudio.
Solo exhibition at coGalleries - Berlin Mitte from
25.08-31-08.22
Opening 25.08.22 - 7-9:30pm
Torstr. 170, 10115 Berlin
Opening of the gallery from Monday - Saturday from 13-6pm, appointments can be scheduled at different times upon request!