Alisi Telengut has received multiple international awards and nominations. In addition to being screened at Sundance Film Festival, Toronto International Film Festival, American Film Institute - AFI, Stockholm Film Festival, and various worldwide film venues and exhibitions as animations, her works have also contributed to ethnographic and ethnocultural research archives. Alisi's spans art, moving image, education, and experimentation, culminating in textured stop-motion films which illustrate traditional beliefs.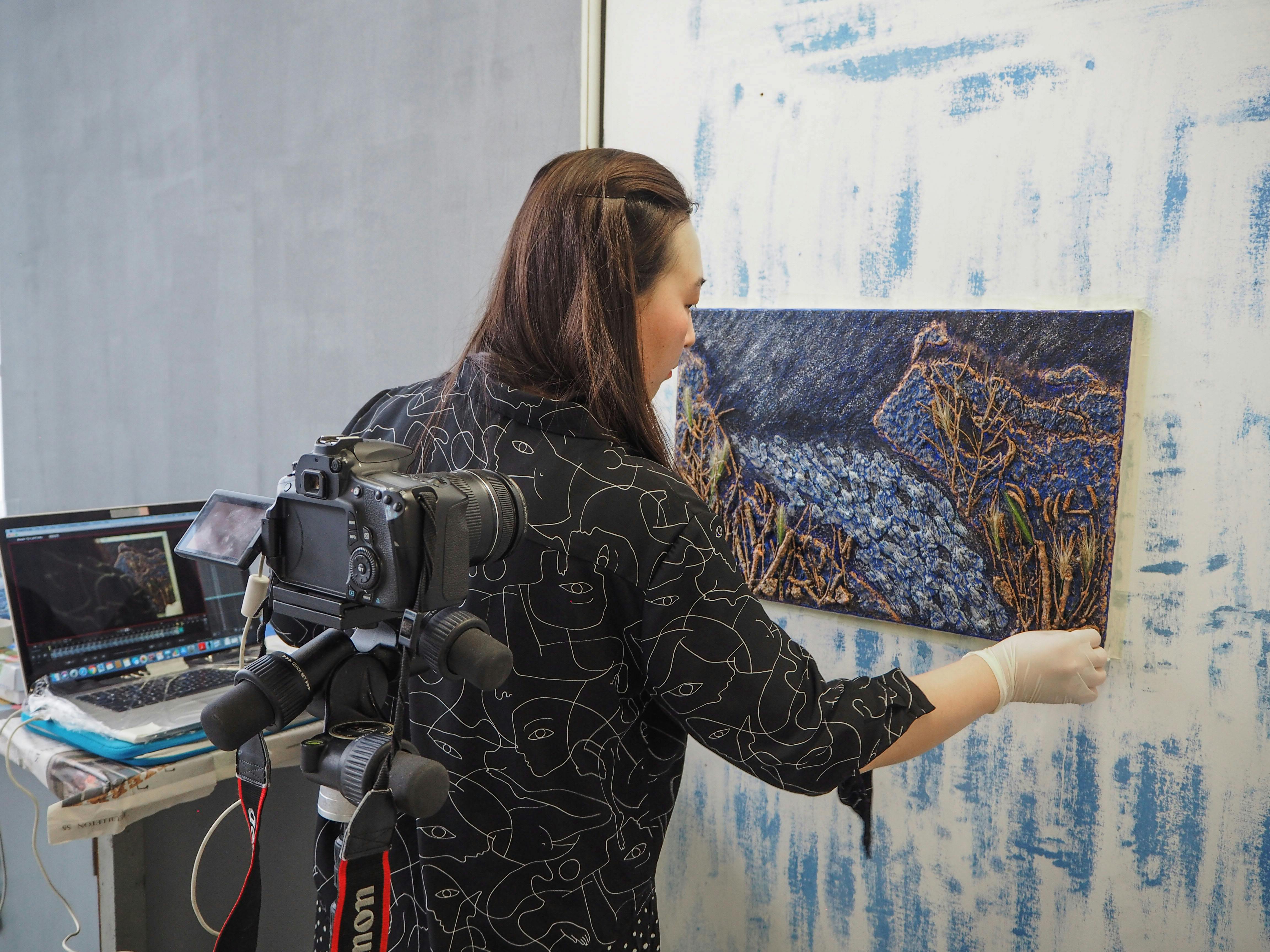 Alisi Telengut at coGalleries studio | Berlin, July 2020
How and when did your interest in film and stop-motion start?
I haven't had any prior knowledge about animation before I attended a film school for my bachelor's degree. As a student, I was impressed by the works of many independent animation artists, such as the South African artist William Kentridge and the Russian filmmaker Yuri Norstein.
Can you tell us a little bit about your process; how do you start a piece, and how long does it take you to reach that satisfied "I've finished" moment?
Most of my works are done in the under-camera workflow. It is a way of time lapse photography of painting/drawing. I have been inspired by the work of William Kentridge who makes drawings, prints and animated short films with charcoal. Very different from clean-looking traditional animation on many papers or digital animation in computers, Kentridge's technique is to animate on the same drawing/artwork overtime. Similarly, my practice also requires a camera stand and a digital/film camera. The animation is created straight-ahead, frame by frame, by hand on a single surface, even including the transitions and morphs between scenes. Every new frame is to cover and remove elements repetitively on the same surface which is fixed at the same position on the animation stand/table. A digital camera is mounted on the top of the fixed artwork to take still images when a frame is completed. This technique allows lots of possibilities and room for improvisation.
However, if I make a mistake, I could barely go back to correct it because the previous frames are covered or removed. The forward momentum of this technique indicates that the traces of the past are constantly in the present artwork.
During your residency at coGalleries, you've decided to create paintings that won't be destroyed, why is that?
As I mentioned earlier, the movement with the under camera technique is usually generated frame by frame by modifying and destroying the previous frame. But I was often asked if I could exhibit the actual frames/paintings from the animation along with the moving image. So I thought it would be an interesting challenge to try animating a framed canvas painting this time.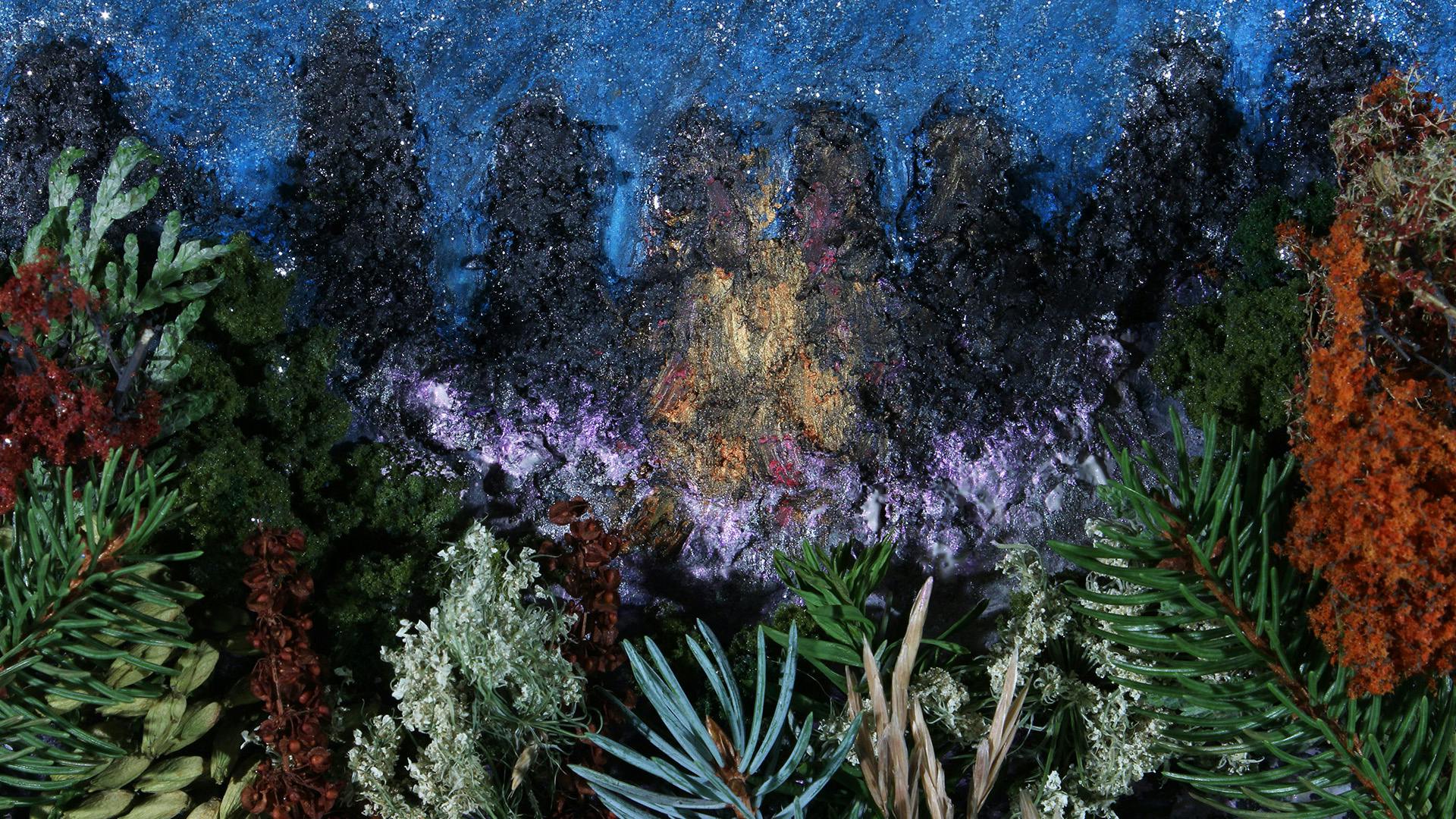 Alisi Telengut's previous film "The Fourfold"
The current pandemic has affected practice all over the world, you yourself were meant to go on and interview in Siberia. What role does ethnography play in your artistic process? Do you believe it's important to highlight traditional belief systems such as animism?
Animism | From Latin anima, "breath, spirit, life" | Noun | The attribution of a living soul to plants, inanimate objects, and natural phenomena.
Even though I grew up in an urban environment, I spent most of my childhood with my grandparents who used to live as nomads on the Mongolian grassland and I was influenced by their ideological and cultural content of nomadic life. They gave me the shamanic and animistic wisdom of viewing the world. My work and interests are not specifically about ethnography, but I definitely want to learn more about the wisdom and worldview of the indigenous peoples in Northern Asia who have lived in harmony with nature for thousands of years long before the arrival of modern technology and science.
I think it's important to re-interpret the term animism anew. Because the term used to be problematic, but it has been drastically reassessed in the past two decades. The outdated meaning was first introduced in anthropology in the 19th century. It was used to describe that Western Europeans have advanced from animism to the highest stage of science, while the rest of the world's populations are still animist and primitive. This definition has been long shunned since the last century.
But the "new" animism is relational, it offers an alternative understanding that humans share this world with a wide range of persons (rock person, plant person, and cosmo person — they are all alive). Over the course of the last two decades, within the political movements of indigenous populations, animism is being increasingly employed for land rights, the protection of natural resources and environmental ethics. It's very pertinent to our current environmental and climate change issues.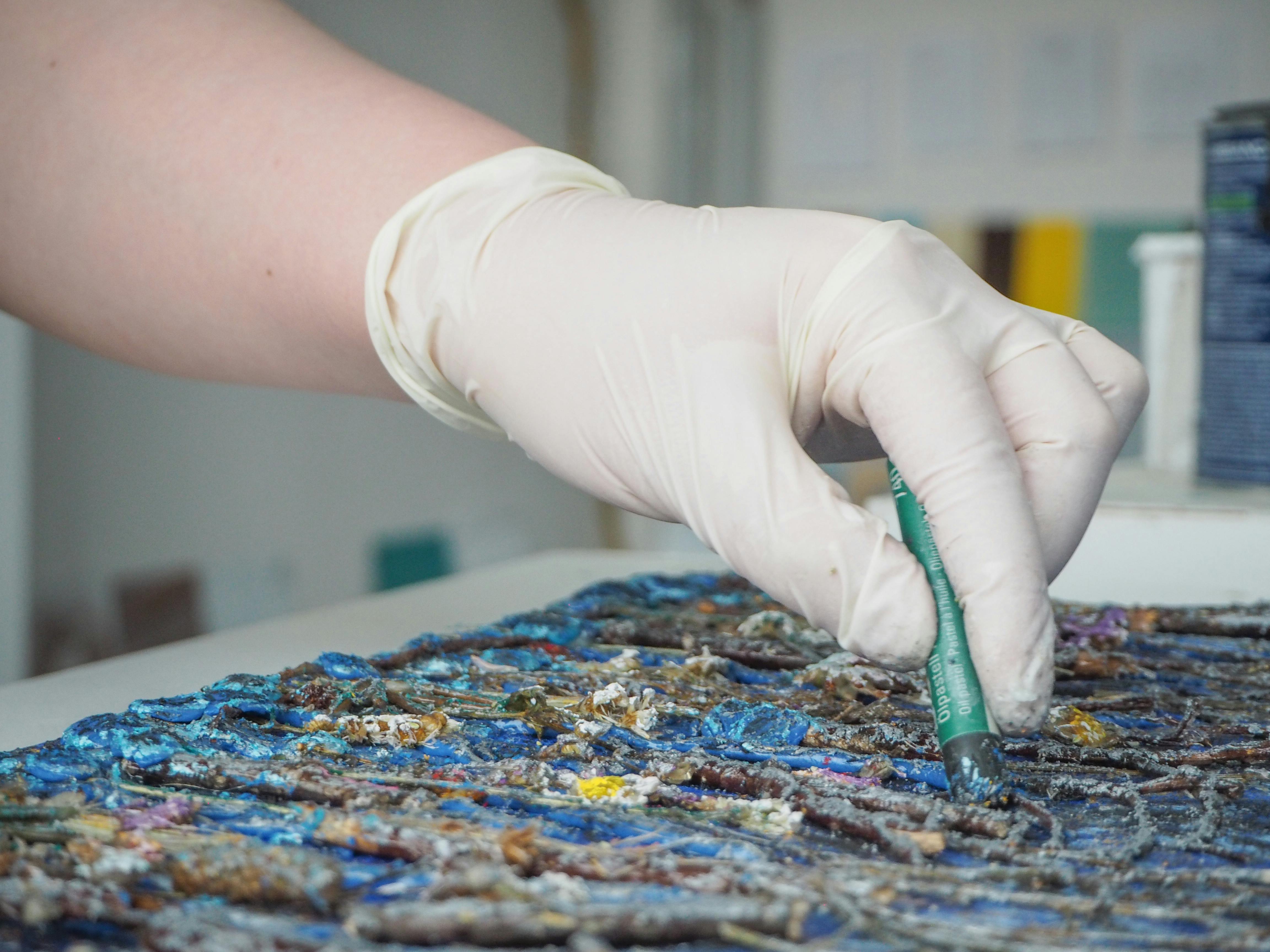 Alisi Telengut at coGalleries studio | Berlin, July 2020
Your work is an interdisciplinary mix of aesthetic entertainment and education. Do you prioritise consciously either of these aspects?
I don't prioritize either of these aspects. My interests are more in the artistic research or research-creation. So these two aspects are related in an interweaving way, not in a hierarchical fashion.
You're used to screening at festivals, but now your work will be presented in a gallery. Why have you made that change and do you think the category through which your work is viewed impacts how it's received?
I think film festivals generally categorize films into two broad groups: traditional cinema (with or without commercial profit), experimental films and visual art. Even the second group is still separated as experimental film and museum/gallery video art and they use subtly different languages. But I think galleries have a sense of open mindedness, transcending the content and distribution boundaries. There could be a different way of improvisation in space and collaboration. As my work definitely doesn't fall into the mainstream animation, so I'm interested in having my work disseminated as open as possible to explore other opportunities in the future.
Alisi is a Canadian artist of Mongolian descent. She is currently a PhD candidate at Filmuniversität Babelsberg in Germany.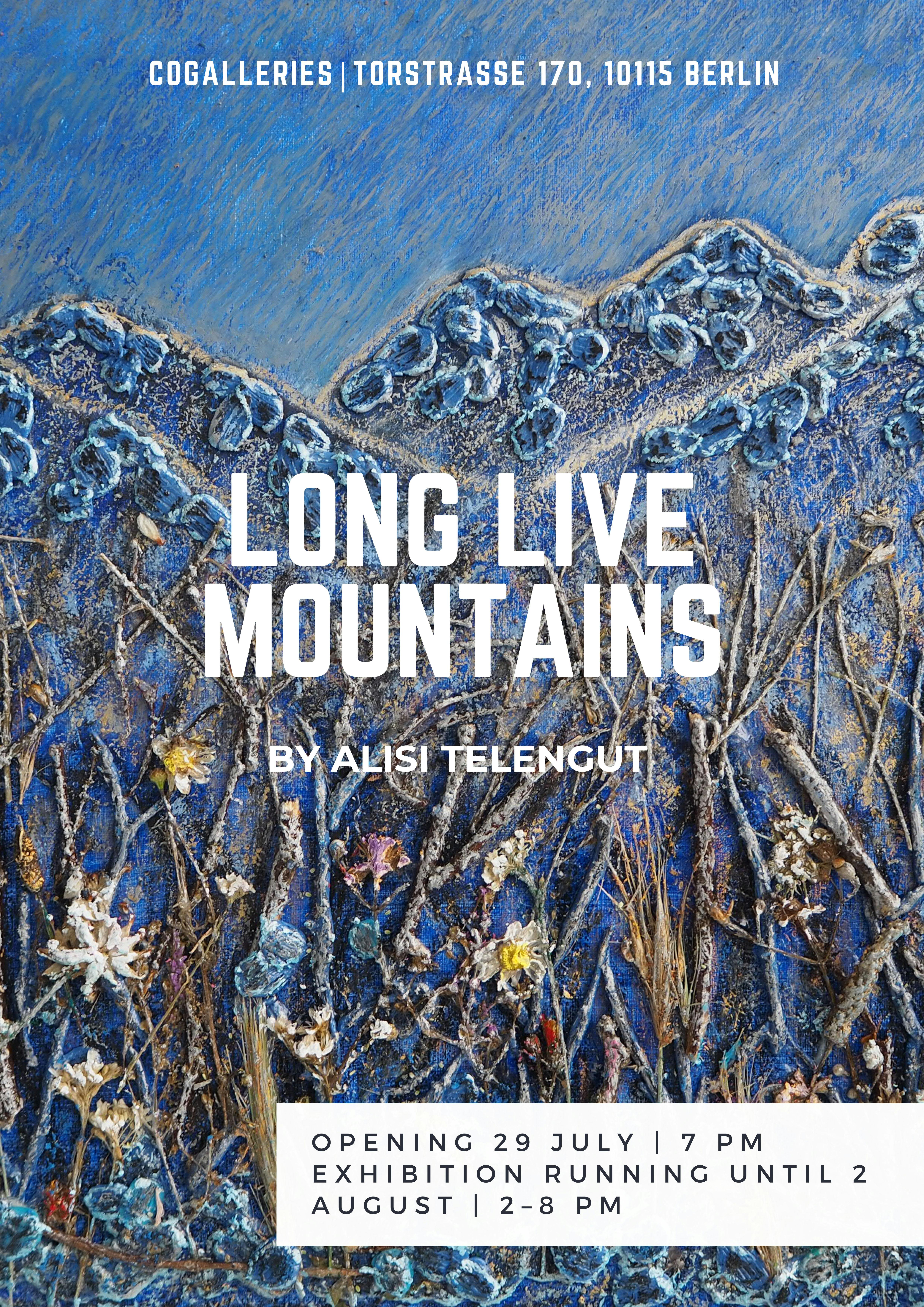 Alisis' debut solo exhibition in Berlin spans from Wednesday July 29th to Sunday August 2nd. We welcome you to the opening night on Wednesday the 29th of July at coGalleries, Torstrasse 170, 10115 Berlin-Mitte, where you can speak with Alisi herself.