Parisian artist Lucas Ngo is the latest addition to the coGalleries residency program. Originally from southern France, he was raised in Collioure and honed his craft in the French capital. Ngo's landscapes serve as repositories where memories fade away, are condensed and scattered.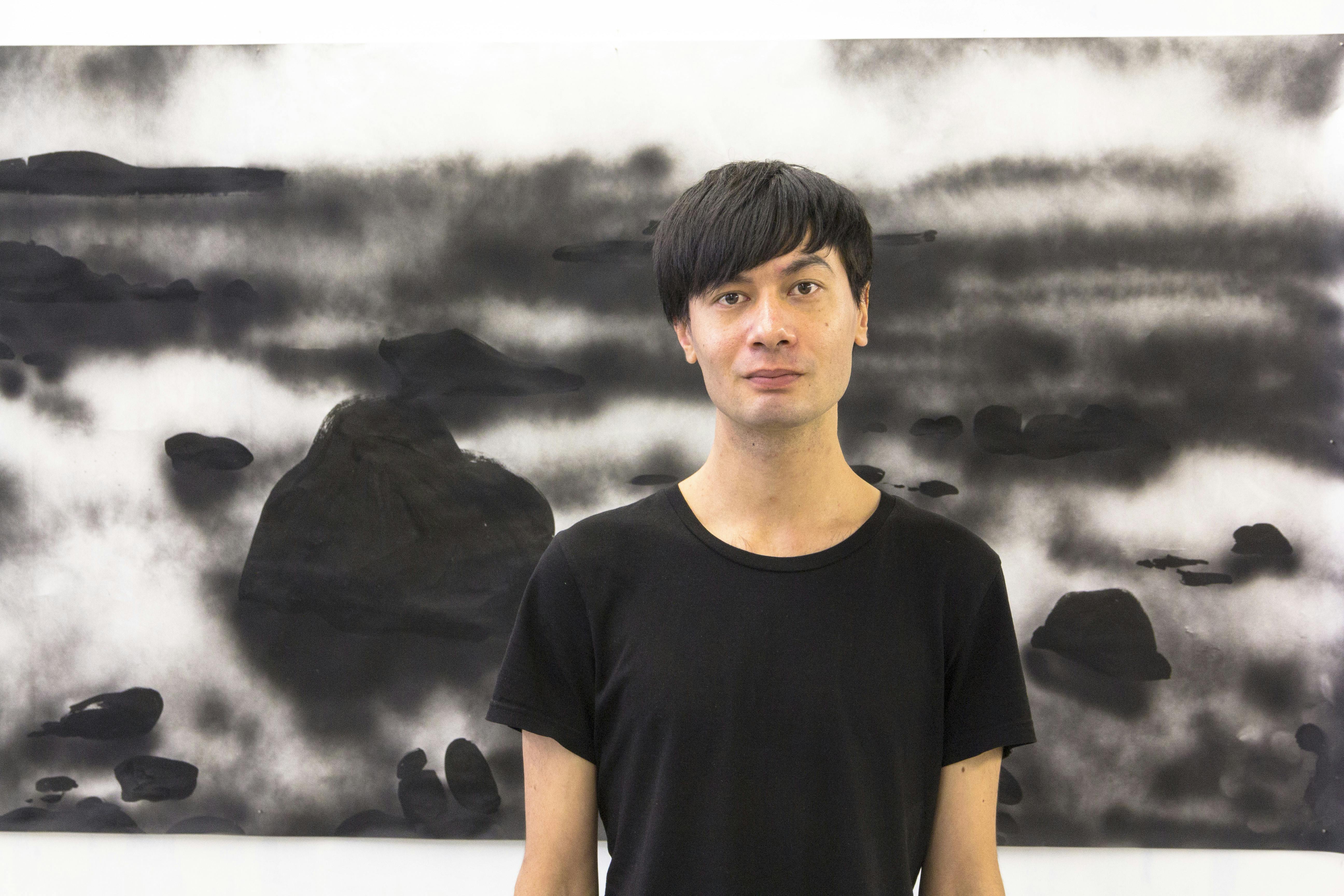 Lucas Ngo at coGalleries | Berlin, October 2019
So tell us a little about yourself - how did you come to pursue a career as an artist?
My history with art goes back a long way. Even when I was 6 years old I knew I wanted to be a painter, but my mother told me that even painters need to learn grammar. So I listened to her! It was a little later, during my high school years, that I really committed to pursuing an artistic career. My parents weren't entirely happy about this, as is often the case with these things. They thought I might change my mind, but I didn't. They came around eventually.
What are some of the main influences behind your work?
My influences include artists like Gerhard Richter, Sarah Moon, Marlene Dumas and David Hockney. I think one of my earliest influences was the fairy tale "The Little Mermaid" by Hans Christian Andersen. It was a huge inspiration for some of my projects. In the past I would often make engravings, drawings or paintings featuring parts of the story. I even chose it as the main focus of my contribution to the 2017 Inktober challenge.
I remember four years ago someone told me that my portrait paintings made him think of "The Picture of Dorian Gray" by Oscar Wilde, one of my favourite books. The comparison was a huge surprise for me as I wouldn't say my work matches with Wilde's universe, but the book is one that I really love. I've been considering starting a project around Dorian Gray ever since! But nothing is certain, for the moment the idea is a nascent one.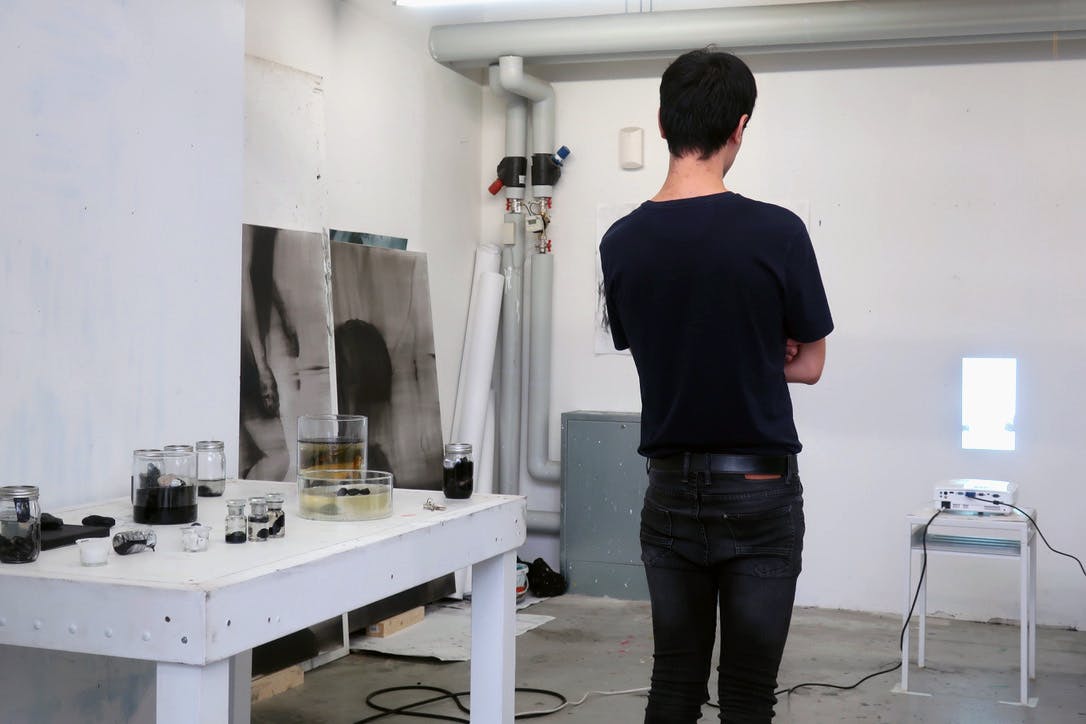 Lucas Ngo with some of his recent work | Berlin, October 2020
Why Berlin? Could you tell us about why you decided to do your residency here?
Well I graduated three years ago, and I've known since then that I wanted to go to Berlin. Why exactly I can't say, I just knew intuitively that this would be my next destination. I already had some experience in Germany thanks to doing an exchange in Hamburg. After the quarantine ended I applied to the coGalleries residency program, not because of its Berlin location, but simply because I wanted to fully invest myself in an artistic project. Once I was accepted, I prepared for my arrival in Berlin without a moment's hesitation. It all happened very fast to be honest - I can be very spontaneous!
How would you describe the subject matter of your work?
Dealing with different types of balance in the same space has been an important part of my research since I arrived in Berlin, but this wasn't my plan initially. I came here with the idea to work on a research lexical based around water and landscape. Before starting my residency, I was focusing on portraits - male portraits specifically - but I felt that something was missing from my work. I was searching for a new direction, but I didn't know where to start.
In the past I have generally focused on painting as a medium to explore memory, evanescence, presence and absence. Reusing is an important part of my process - I feel the objects and images I use carry with them an echo of the past. Sometimes I see what I do as a kind of divination - just as card readers use cards, I use photographs. The potential for an object or picture to trigger my imagination is something I am very interested in. - I find that sometimes a photograph can create a "flash" in my mind, that it can prompt a thought or feeling in a truly visceral way.
These are the sorts of themes I usually explore, but for my residency I wanted to experiment. I eventually decided to investigate the concept of balance, or more specifically an idea known in physics as "indifferent balance".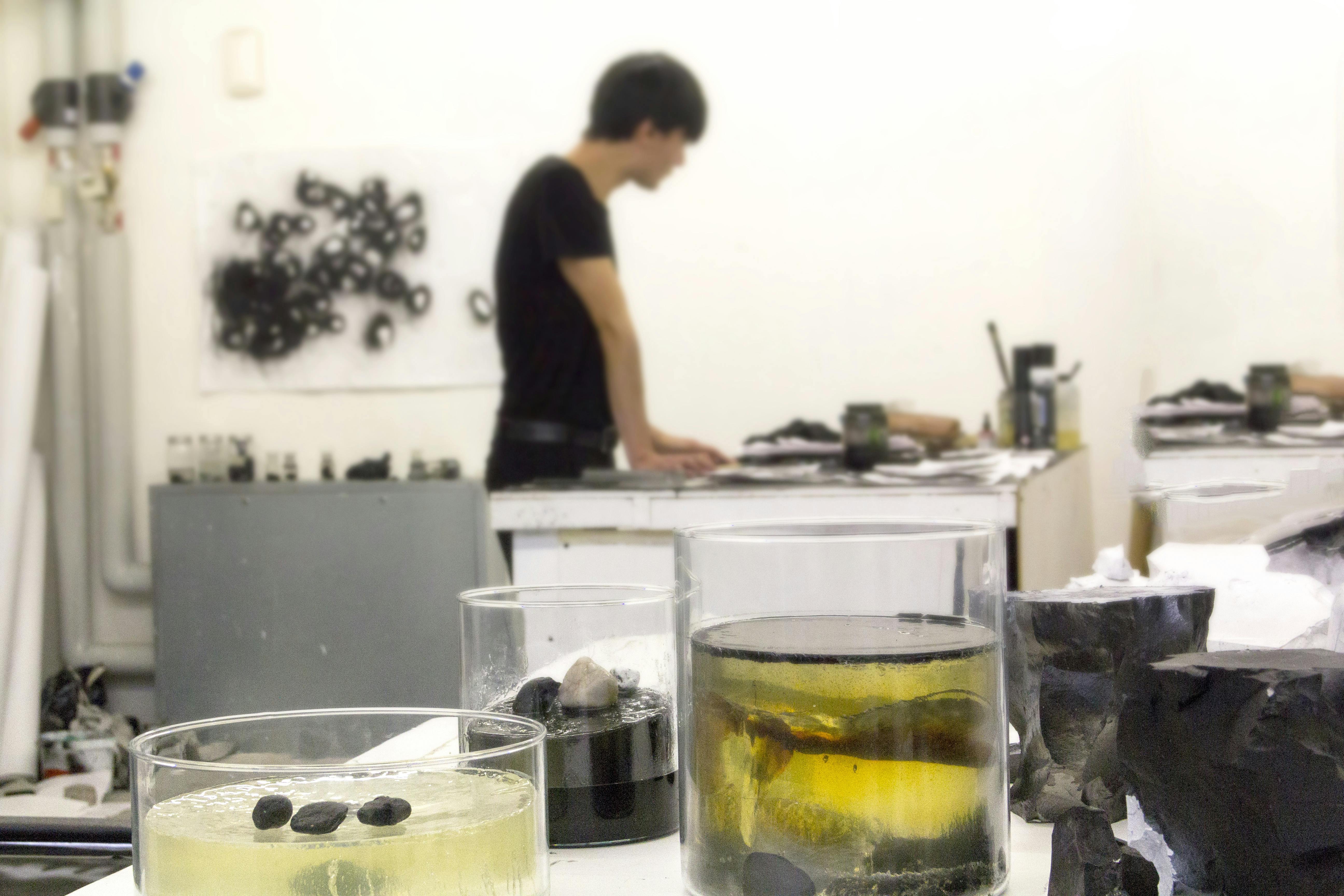 Lucas Ngo preparing for his upcoming exhibition | Berlin, October 2020
"Indifferent balance" - what does that mean to you personally?
So in physics there are three types of balance: stable, unstable and indifferent. A stable balance will always return to its initial position after being disturbed, an unstable balance never returns and an indifferent balance can't be disturbed by anything in the first place. There is a sense of hesitation in this type of balance. Some elements seem to exist in perfect harmony, but this is not always the case.
I see a parallel between these different types of balance and different states of being. I have attention deficit disorder, and so this idea of indifferent balance is something I really aspire to. Staying focused on something for more than ten minutes can be a challenge for me - in fact when I paint I usually work on multiple pieces at the same time to help keep me focused. I know that must sound counterintuitive, but it helps me.
In my first days at the studio I saw everybody really concentrating on their work, which reminded me of my own difficulty in sustaining attention. I had flashbacks to my time with artist Loo Hui Phang - who I worked with during my last year of study, helping her to scenograph her work for a solo show. One of her pieces illustrated her state of mind when creating. Her state is comparable to that of indifferent balance.
Later I was trying to figure out how to exhibit some pieces I made for my degree and I found myself questioning my own state of creation. I found mine was more akin to a sort of levitation - a turbulent levitation. My revelation prompted me to delve further into this idea of levitation in my work and in doing so, I'm exploring the question of what can be interrupted and what can remain indifferent.
Currently I am trying to explore these ideas through the use of stones. Some of the stones in my work seem to be embedded in the ground, others are in a state of levitation and some are falling. There is always a question of what will happen, or of what is happening. This is how I represent balance when I paint my landscapes.
Let's talk a little more about your use of stones. How did they come to be the focus of your work?
When I was growing up I lived by the sea, and I would spend a lot of time drawing it and things that I associated with it - shells, fish, mermaids even! This list included rocks, but my current fixation with them is something that developed gradually. Usually I work with photographic documentation - mostly pictures taken with my phone. I then start to paint with one of these pictures as a base. Just as a card reader would use cards in divination, I use the pictures as a means to trigger and awaken something in my imagination. For this project, I started with landscape pictures from Collioure, the village where I grew up.
I started collecting some stones while I was visiting Berlin with the idea that they could be useful for my scenography. But over time, their place became more important and they eventually replaced the pictures I was using. As I mentioned earlier, reusing is a part of my process and I don't have to think twice over how I can reuse stones. So they're very appealing to me. Obsession is something that is very present in my work. I have the habit of working on a subject until the moment I am tired or bored - like when you overplay a piece of music. Stones are my current obsession, but not my first or my last. Just after the quarantine, for example, my obsession was with wind and storm.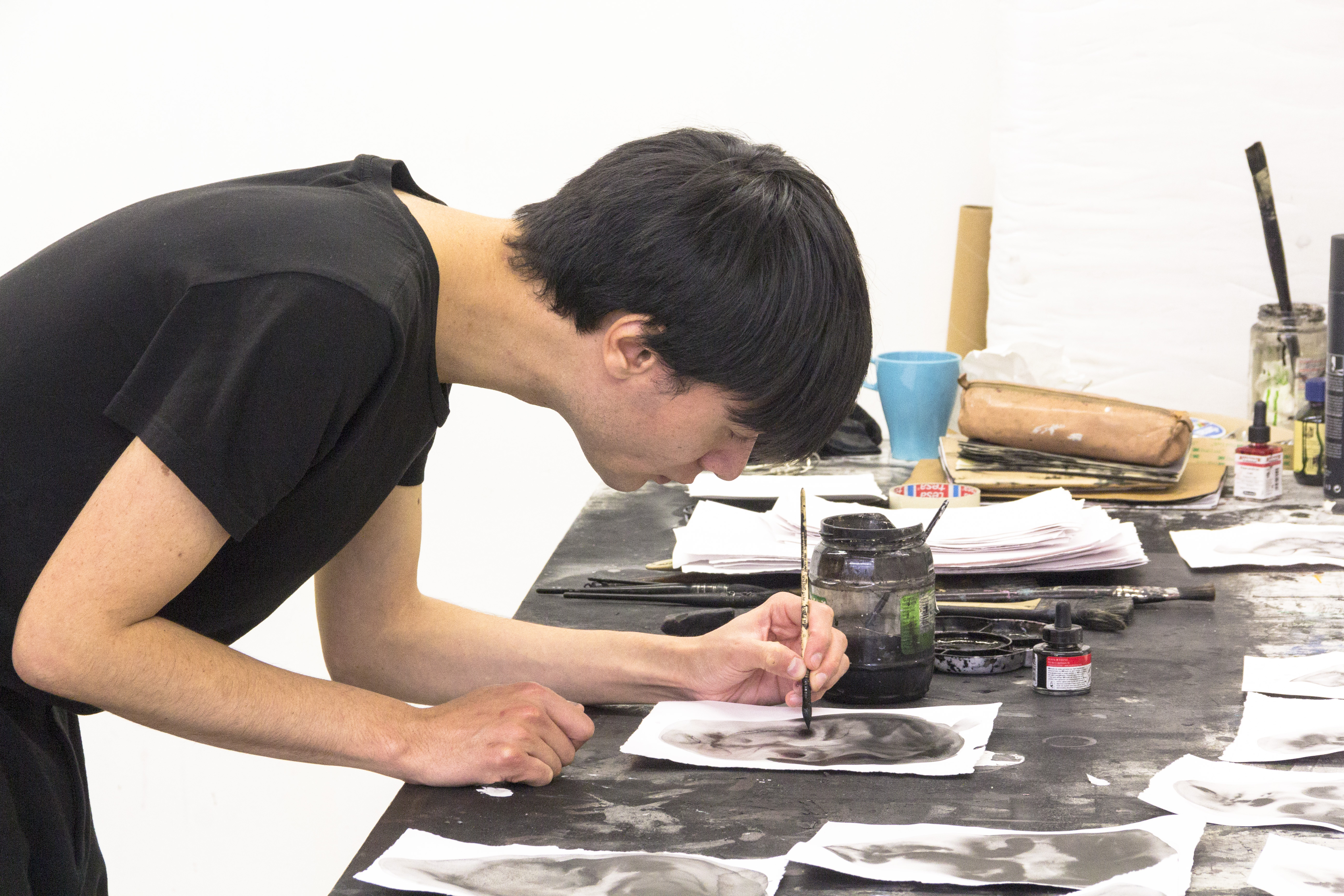 Lucas Ngo working with brush and ink | Berlin, October 2020
A lot of your work uses a black and white colour palette, is there any particular reason for this?
I'm a bit of a black lover. As I mentioned obsession can be very present in my process, and sometimes I will only use one colour until I grow bored with it. During quarantine I painted with only red for two weeks, currently I am using a lot of black.
The use of ink is another thing that sticks out in your work. What drew you to ink?
I paint with transparency, erasure, mist and blur. These make up my graphic approach and help me to express my ideas. In the past I painted with oil. I was using it in a way similar to ink with all its possibilities for transparency. This is why I started to include ink in my process and experiment with different types of ink. Now ink is the basis for a lot of my experimentation.
You usually use ink in combination with brush and spray. Why did you decide to use those instruments?
Like I said, I work with mist and blur, and using different types of brushes allows me to create different shades of mist. I discovered spray while I was researching in Berlin and thought it could be another way to explore mist.
You have a solo exhibition coming up next month - would you like to speak a little about that?
I can promise to show you my sculptures, and some work on paper. For the moment the curator and I are not sure about what to show or not because I'm still in the middle of the process. During my residency I've gotten into the habit of hanging my work up on the wall to build a timeline of sorts - this lets me see how it has evolved over time. I have the habit of processing my work in this way - I like to produce constantly and then to make a selection at the end. So I'll have to wait until I can see the whole picture before I can answer that question. My plan was to organise a performance, but the Covid situation doesn't really allow for it. Nonetheless, I'm super excited to have my first solo show! Perhaps you will recognise some of the stones I used for my paintings.
Lucas Ngo will be taking part in "Die Natur der Dinge", a group showing at project space KIMGO, on the 22nd of October. The show is a dialogue on landscape between jejudo and berlin - this group show was made possible with a generous support by the Korean artist Oh Min-Su who was a grant holder of Art Berlin Now this year, and Jeju Foundation of Arts and Culture.
Ngo has an additional solo show on the 11th of November at coGalleries.
Interview conducted by Keumhwa Kim.
Photography credited to Tahian Bhering.